Posted on December 20th, 2011 in
Gear
by Spencer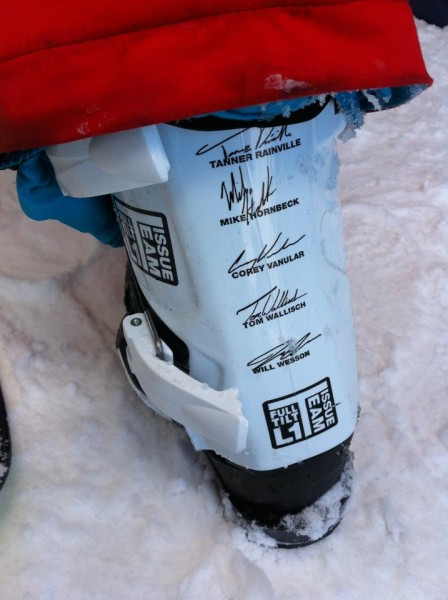 Update: These are not the 2013 Hot Dogger Boots. These were a special Level 1 collaboration. Check out our SIA 2013 Full Tilt Boots post.
A pair special Fulltilt Hot Dogger Boots were spotted in the wild this weekend. Tom Wallisch, who sported the new snow kicks, was dropping hammers which earned him the win in Men's Ski Slopestyle at the first stop of the Winter Dew Tour in Breckenridge, Colorado.
The new Full Tilt Level 1 Team Issue boot isn't just Tom's. The all white back features the names and signatures of the best freestyle skiers around. The likes of  Tanner Rainville, Tom Wallisch, Corey Vanular, Mike Hornbeck, and Will Wesson are all represented. The front of the boot appears to be black with the same overall design and construction as the 2012 Hot Dogger boots. The new color scheme is classy. I don't see any panels with shoe laces but we have only really had a small glimpse at the boots. More information to come. SIA is only a month from now and I will be trying these boots on and giving my first impressions. Check back.