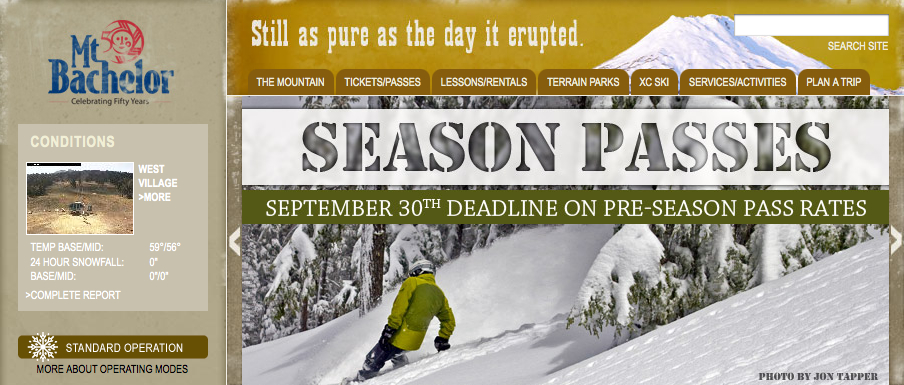 (Bend, Ore – Sept 16, 2009) – With only week's remaining until Mt. Bachelor's pre-season deadline for the lowest rates on season passes (September 30), the ski area is wrapping up preparations for the 2009-2010 ski season that have included $1.25 million worth of improvement spending. A wide variety of projects both on the mountain and in guest service departments have been underway since the conclusion of the previous season. Below are details on a selection of those projects.
Northwest Express Computer System and Wiring
The popular Northwest Express Quad is benefiting from nearly $200,000 worth of investment. The lift's internal computer system and circuit wiring, dating back to its original installation in 1996, have been replaced by the latest versions available from Doppelmayr.  The upgraded computer system and wiring is expected to improve chair spacing and significantly reduce nuisance slows and stops which result under heavy loads, predominantly on morning start-up and in challenging weather conditions.
Groomer, Snowmobiles, Nordic Track Setter
Approximately $260,000 is being invested in a new Prinoth BR350 snow groomer, new snowmobiles featuring quieter, more economical, clean-burning 4-stroke engines, and a new Nordic track setter. This equipment is important for Mt. Bachelor's continued focus on improved grooming operations and to better facilitate transportation of mountain operations crews.
Avalauncher, Weather Instrumentation
Mt. Bachelor Ski Patrol crews will have new tools to assist in their avalanche control operations. A GT Falcon Avalauncher has been purchased for avalanche control on the Moraine that rises above the Skyliner Express and the base of the Summit Express lifts.  Control work by avalauncher will reduce exposure risk to our Patrollers and the time needed to clear the area for the public.  New instruments and data loggers will also be in use to monitor and evaluate weather, snow and avalanche conditions.
Base Lodge Wi-Fi and More
Staying in touch with the office while skiing will be far easier this winter as Mt. Bachelor is joining forces with BendBroadband to offer High-Speed Internet hotspots at its base lodges. Other improvements include new rails and features for Mt. Bachelor's terrain parks, a new energy-efficient air lock at the main entrance to West Village Lodge, continued tree removal following last winter's ice storm, improved snow fencing, new energy conserving lighting systems in Mt. Bachelor Ski & Sport and the Vehicle Shop, and a variety of spending on additional building and lift projects.
Kodiak Snow Mover
Mt. Bachelor is taking delivery of a $480,000 Kodiak Northwest snow mover, back-ordered from over one year ago, for the clearing of parking lots and roadways. The addition of this snow mover increases the resort's snow removal power by over 50%.
Season Pass Options
A new 12-Day Pass priced at $399 joins the regular pass line-up this year and the soon-to-be-available Club Card offers a reduced rate on single day tickets. The 12-Day Pass and all other passes are available at the lowest rates of the year through September 30. Season pass information and product purchase details are available at www.mtbachelor.com.
Snowsports School Introductory Programs
The Mt. Bachelor Snowsports School has developed a host of new programs and deals to increase participation in snowsports while improving the skills of current participants. The new "Ski or Ride in 5" program offers 5 beginner lessons to be used throughout the season with special "graduation presents" for guests who complete the program, including free skiing for the remainder of the season. The popular All Mountain Kids season-long camps, which offer a summer camp experience on the snow with the same coach, are now priced including a full season pass. A new online portal at www.mtbachelor.com has been built for the Mt. Bachelor Snowsports School to describe the variety of offerings available.
Sliding Scale Daily Tickets
Recently covered in Fortune Magazine, Mt. Bachelor is preparing to offer sliding scale daily lift ticket pricing based upon the amount of terrain available and weather conditions. A single day adult lift ticket will be $69, $59, or $49 depending on the day's terrain and weather. More information about the sliding scale pricing model is available on the lift ticket page of www.mtbachelor.com.
New Trail Map
For the first time in 14 years, Mt. Bachelor has redesigned the ski area trail map artwork from scratch to improve guest navigation. Using new technology that combines high resolution satellite imagery with elevation data, the new trail map is more accurate than previous renditions and is completely to scale. The new technology has also allowed for the Westside of the ski area to be pictured in the same manner as the front side, as opposed to a smaller inset.
Stay FREE Ski FREE and Kids Ski FREE Lodging Partner Deals
Mt. Bachelor will again work closely with area lodging properties on a joint marketing campaign designed to attract visitors from outside the region to visit Central Oregon in winter. Families with children 18 and younger will be offered Mt. Bachelor's "Kids Ski FREE" program on visits of 3 days or longer. Visitors without children can take advantage of "Stay FREE Ski FREE" on 3 night/day lodging packages including lift tickets for less than $40 per day. The full menu of options and participating properties will be available on Mt. Bachelor's website, ranging from high visibility home page exposure to simple listings on the lodging web pages.
"We have a good mix of capital improvements, new programs and vacation plans offering maximum value this year," said Dave Rathbun, President and General Manager at Mt. Bachelor. "We have a product line-up that gives Central Oregonians options based on how many days they intend to visit, we are making a concerted effort to introduce skiing and snowboarding to many more people, and our destination marketing and promotions will communicate the values of Mt. Bachelor and Central Oregon. Finally, I am proud of the focus and energy our employees and managers are displaying as we plan for more guest service improvements as well." Rathbun concluded, "Needless to say, I am very excited about the coming season here at Mt. Bachelor."
About Mt. Bachelor:
Mt. Bachelor is the sixth largest ski resort in North America, offering 3,683 acres of lift-accessible terrain. The mountain features 10 lifts, seven of which are Express Quads, plus two tubing lifts and wonder carpet and an average annual snowfall of 370 inches. The previous two seasons have seen snowfalls over 500 inches. Mt. Bachelor also features terrain parks, 56K of groomed and tracked cross country trails, snowshoeing, tubing, sled dog rides and summer attractions. For weather conditions, news and events visit www.mtbachelor.com.
---
SkiersRealm.com – Mt. Bachelor has always been my favorite mountain to ski in the Northwest. The ability to easily find unique yet challenging in bounds terrain cannot be beat and the powder, oh yes the powder, is dry like what you might find in Utah or Wyoming. Within the last five or so years Mt. Bachelor has been plagued by complaints of poor service and a lack of lift operational consistency. I have personally sat on the Northwest Express lift not moving in high winds and cold temperatures checking my watch as the day's runs were getting more and more expensive.

Mt. Bachelor has since tried to remedy these issues and become more of the destination resort that produced the accolades they received in the last decade. The 2008-2009 season brought change within the mind set of the resort staff. Their welcoming smiles made me forget any uncertainty I may have had about the problems of the past seasons. This year's summer projects go to show a commitment to the future of the mountain and their focus on hospitality. We applaud the approach that Powder Corp has taken to make Mt. Bachelor the best place to ski in North America. Here's to the new Mt. Bachelor. See you in dilly dally alley.

Posted on September 16th, 2009 by Spencer