Two giants in Candide and Simon Dumont have fallen leaving Sammy and Tom left to duke it out. Between the two Americans, five film segments were filmed, two X Games medals were earned, and four Dew podiums were stood upon. Could the final be more closely matched? Who will be Freeskier's Skier of the Year? Vote now, and then see the answer in February's Awards Issue.  
Matchup 1: Sammy Carlson vs. Candide Thovex
Winner: Sammy Carlson, 63%-37%
Team Sammy absolutely pummeled Candide's camp in this semi-final matchup. The TGR/PBP athlete used his Dew tour and X Games podiums to propel him past the legendary Thovex. It seems that Candide's win at Linecatcher and Freeride World Tour title just wasn't enough to take out the 3x Freeskier cover boy. 
Matchup 2: Simon Dumont vs. Tom Wallisch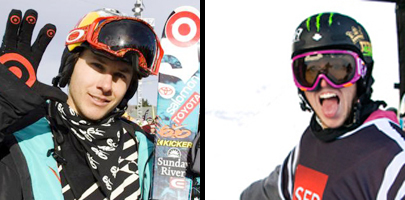 Winner: Tom Wallisch, 57%-43%
Despite last round's upset over Bobby Brown, Simon was unable to parlay that momentum into this battle against Tom Wallisch. Wallisch, who had three segments (incorrectly stated as two in previous rounds) to Simon's one was surely a factor. Tom's street credibility, boosted with his appearance in the latest TNF video, couldn't have hurt his popularity either. 

Posted on November 24th, 2010 by Kyle