This year's film, directed by Dom Janiszewski, is the outcome of a solid collaboration between Dom and Sammy, who has been involved in every stage from planning to graphic design. They began shooting just before the X-Games in Aspen and the surrounding areas. The next big stop was in Europe in Montgenèvre where they had excellent conditions. Then to finalize everything, Dom spent over a month in the US travelling all over the place with Sammy and company.
This year, Ride the Planets also collaborated with filmers based in the US: Pete Alport, Justin Weigan and Brandon Husak. They filmed the more urban shoots around the US with various riders.
The film also features freeskiers such as Matt Walker, Tanner Hall, Simon Dumont, Tommy Ellingson, Mike Hornbeck, Ben Moxham, Liam Downey and Nick Martini as well as 'Sammy's kids' Willie Borm and Seamus Flanagan. Of course, infamous paragliding shots with Antoine Montant are topped off with impressive speedflying.
Sammy's words, exclusive SkiPass interview.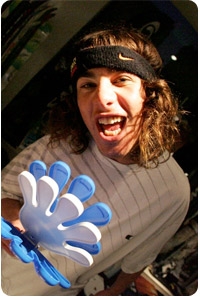 Hi Sammy, What's up?
Hello every one! I am in whistler BC, I Just got done filming yesterday for Cant Stop, On Momentum Camps Wall Ride. I just woke up early feeling really good this morning, stoked to start editing With RTP and happy with the footage we got this year.
How are the Momentum Camps this year ? How do they compare with other camps?
Momentum is good, lots of fun. I have been riding a ton at Camp Of champions they have a full length park like its winter time, Soft snow fast T bar its SOOOO much Fun. I'm loving it!
Can you tell us a bit about how the Cant' Stop project came to life?
It's pretty cool, I've known Dominique from RTP for  4 years now, Last year Dominique and I worked together all season long, Killed it together during JOSS, became super good friends. Early last Fall I went to France for a Salomon meeting, While i was there I spent a day with Dominique, we were sitting eating some Lunch and he said he wanted to make a DVD with me this year, so we started talking about it exchanging Ideas and by the end of lunch we were stoked to film a Movie together.
I just really enjoy working with Dominique, He is a good friend of mine and I just wanted to have FUN!   He is an Amazing Cinematographer, over the years we grown trust while filming, allowing us to get some amazing follow cam shots!
Plus RTP kills it, we have so much fun when we film with the Paraglider.
How good is the movie going to be?!
The Movies going to be SICK, im stoked on it lots of creative riding, Good filming.
Anything  you want, We got it!
What was the highlight of your season?
My highlight? there is so many, filming with the paraglider was good.
But I got invited into Snowboarder Magazines Super Park at Mammoth Mtn. It was so sick,  Lots of crazy features and We killed it! represented for the skiers. I had alot of fun with that.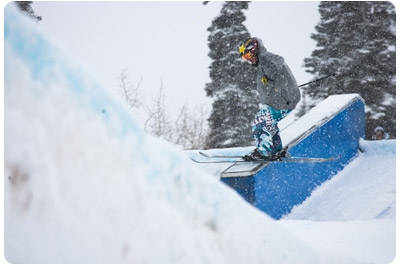 What would you like next season to be like?
Im stoked to Put out some crazy film segments next season!
But now that the movie is over, my main Focus is the comp scene, I want to focus hard on X -Games again and Dew Tour.
Will we have a chance to see you at the European Winter X Games?
Yes I am stoked that event is happening, I will be really busy but Plan to see me there!
A few questions from our readers :
- How did you react to the "My friend is a Pro" intro?
To tell you the truth, Its hard for me to Get you guys to understand the whole thing
I am Just a Kid who loves skiing, I didnt get why they wanted to make fun of that. It pissed me off at first for sure, because I always try and be cool to Kolby and give him respect when I see him, then he disses me in his video.
He told me he wants me to make a video dissing him back and have a battle, Im no comedian Im a skier,
I will Battle him on my skis, Ha Im not going to waste my time. I got my energy focused right now.
Now,  it doesnt bother me,  I think the video is weak,  hes just hating!
Its on, skiing better then ever thats all that matters to me

- What is your favorite riding place?
Timberline Lodge, Mammoth MTN
- As for the american cliché, are you more into Mc Donald's or Burger King?
Mc Donald's for sure! but i dont eat that any more SubWay! eat fresh!

Posted on July 16th, 2009 by Spencer