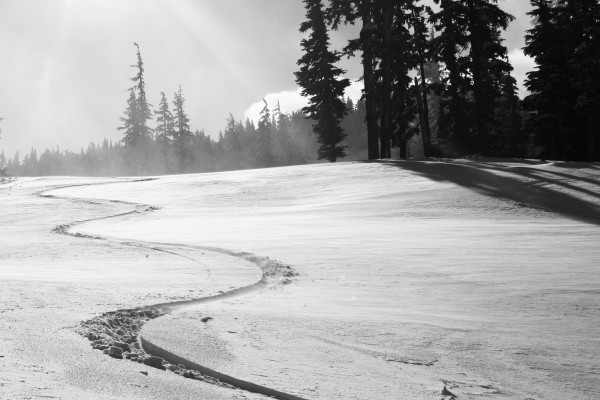 Something occurred to me the other day, I'm addicted to skiing powder. Now as far as I know I've never had an addiction problem. Without trying to sound like some sort of goody two shoes, drugs just aren't my style so I've basically stayed away from them. I could care less if others use them, I just know what I like and don't like. To each their own. But of course growing up teachers and after school specials have done their best to educate me of the dangers, like addiction. And while it might sound like somewhat of a joke to say I've got a powder addiction, when you write out the symptoms you start to see that I just might be on to something here. So here are my symptoms and I'll let you all be the judge on if it's a legit addiction or not. But addiction or not, I'm guessing there are more than a few of you out there who can relate.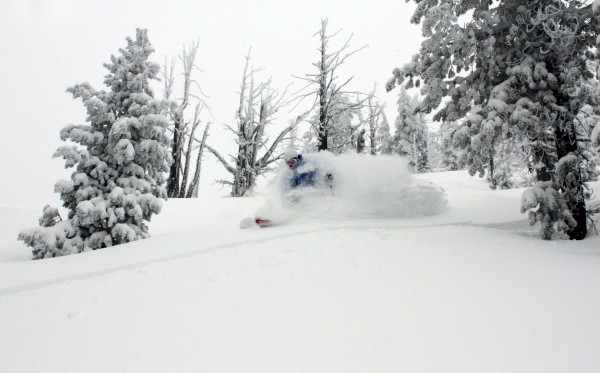 I'll make plans based around a storm. Meaning, if I think there is snow on the way you won't find me making plans to head out of town.
Going a bit further than #1; I can't live anywhere that doesn't have easy access to a ski area. I lived in Portland, Oregon for about 2 years. It took 1.5 hours each way to get to Mt. Hood Meadows. It was depressing, I was grumpy, and drove me crazy. I moved away and now live 20 minutes from Mt. Bachelor in Bend, Oregon. I'm not sure I can imagine living any further from skiing again.

I can use powder skiing as a substitute for human emotion and companionship. Which might sound a bit ridiculous and I'm not trying to stay single. I'm just saying as long as I can slash pow I'll be just fine. Of course both would be the goal.
Ok so maybe #3 might get a bit old after a while. I mean everyone's looking for love. But I can without a doubt use turns in fresh pow, and skiing in general for that matter, to forget about the things in life that are bothering me. It's amazing. I can be a basket a stress balls and as soon as I start a decent everything just fades away. You find a way to put that powder feeling into pill form and I'm gonna be poppin' those things morning, noon, and night.
I put pow skiing before my friends/family/job. Have you ever heard the term "no friends on a pow day". I think it's pretty common, but even if not, it's a dead ringer for how I feel when the snow's falling. If you're going to keep me from fresh faceshots then your priority has just dropped off my radar.
It's never enough. I constantly say "ok one more lap" if it's a pow day. Regardless if I have prior engagements, if it's dumping hard enough for free refills then chances are really good that I just "lost track of time" and left you waiting for me at the brew pub.

I am constantly chasing the pink dragon. Or how about the white dragon. Searching for that feeling you get when riding untracked snow. The freedom to turn an float effortlessly wherever you want. The feeling of shock from the cold when you get covered in snow by a faceshot. It never gets old, in fact it makes me feel younger. I hoot and holler and giggle like preschooler. Powder is my fountain of youth.
Skiing started off for me as something to do with friends. A great day was going up to the hill with my crew to shred and cause havoc. And those are still great days. But these days I'm just as content to roll up alone and ride all day without saying a word to another human. Just give me some fresh beats to rock to and 6″ of new and I'll be good to go. You ever have that stoner friend who as long as they had weed to smoke, books to read, and music to groove on,  would never leave their room? Well that's me but the mountain is my room, the powder is my weed and music is my music. However, I don't recommend reading while skiing.
Ever go to great lengths to get your next fix? Well what do you think is going on when you're chasing storms in search of the next dump.
I'll leave you with one other thought that just popped into my head. Think about this: I work for a ski resort. We sell snow to the masses, trying to get them hooked. We offer "kids ski free" passes, we have lesson packages that come with free season passes after completion. We want you to get a little taste because we know you'll just want more after that. If that's not the definition of a pusher then I don't know what is.

Powder is my drug.

Posted on March 24th, 2011 by Kyle