Well ski season is almost here. Want proof?

Looks pretty wintery to me. Still don't believe me? Okay how about this, Sunday River opened on Friday Oct, 22. Thats right, for the first time ever nationwide and the 4th time on the East Coast, Sunday River is the first to open. Thanks to what they call "the most powerful snowmaking arsenal in the universe…" Skiers and Riders were ripping up 2 trails and an early season park over the weekend. 
As for the other side of the continent, winter seems to have awaken from it's off season slumber and is ready to play. If all the hype turns out to be truth, I'd say employers are going to see about a 117% jump in the number of sick days taken this winter. With a visit from La Niña on the horizon the forecast is for a colder and wetter than average winter this year in the Pacific Northwest. Riders rejoice! Don't want to buy into it? I don't blame you, but here is a shot taken today from Mt. Bachelor.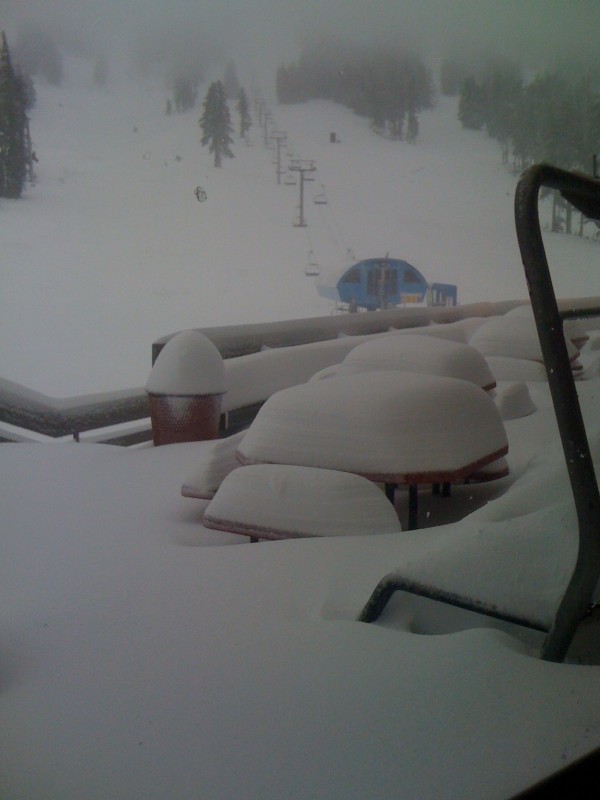 That ain't no man-made snow either. However, what looks like an 18" dump overnight is mostly a lot of windblown fresh stacked on top of each other. There is actually more like 3″-6″ blowing scattered around the Mountain so don't expect an opening tomorrow. What you can bet on though is some good ole' fashion early season hiking starting today. I'd say it's time to grab the gear and wax up the sticks.

Posted on October 25th, 2010 by Kyle