2013 Lib Tech Fully Functional Five skis:
Whether you want to call it "getting serious" or just "expanding the line", Lib Tech is really upping the ante next year with their 2013 line-up of skis. 4 new models will be gracing the shelves this upcoming winter, and that's in addition to the existing models that are already in production. The other big news is that price points will be dropping a bit as well. No adjustment in quality, same handmade loving touch in each pair, just going to cost the working man less of his coin. Which is never a bad thing. Also never a bad thing…getting to demo one of their most anticipated new models, the 2013 Lib Tech Fully Functional Five skis (FF5). Which, for those who don't know, is aimed at the all-mountain/powder skier and wants to be the only ski in your quiver. If that still doesn't give you a clear idea of what they are, just think Armada JJ or Rossignol S7. They are constructed to perform in the pow and also handle anything the mountain can throw at them. A ski you can take to the mountain on a daily basis if that's your bag.
Specs: 
Lengths offered: 175cm, 185cm
Flex: 175cm – 5.5, 185cm – 6
Profile: Lib Tech reCURVE Technology (Camber underfoot, Early rise tip & tail)
Dimensions: 175cm – 137/115/129mm, 185cm – 144/117/135mm
Sidecut: 16.5m (both lengths)

Target Skier: The all-mountain skier who lives for pow days but doesn't want to move his Roth IRA from stocks to skis just to build the perfect quiver. The skiers who wants one pair to do it all
Overall how'd it ski?
The demo at Snow Basin wasn't my first encounter with the Lib Tech Fully Functional Five, although it was my first experience actually getting to ride them. There was a demo at my home mountain (Bachelor) earlier in the year where they had a pair available, only at the time they were still "under wraps", had a plain silver top sheet and were called the "silver surfers" by the reps. I came about as close as you can get to riding them, I had to give em' up to a Lib team rider (Lucas Wachs) and instead was "forced" to ride the Pow NAS. Which I actually fell in love with, but that's a whole other review. I did take some runs with Lucas as well as one of the Lib developers and was able to watch the FF5 in action when strapped to the feet of somebody who could use them like they were meant to be used. After a few runs Lucas had nothing but good things to say about the skis and it only got me more excited to ride them.
Flash forward to Snow Basin. I was a little disappointed to learn that the only pair of Fully Functional Fives Lib was able to bring were in a 175cm length, that's just barely on the border of being too short for me, especially when it comes to rockered skis. But it was long enough for me not to pass up so away I went. Overall the skis were great and by the time I was done with them my only complaint was still that I wished I would have been able to ride the 185cm version that will be available. Mostly because I felt the 175′s were just too easy, they did the skiing for me basically and I'm used to riding something that pushes me a bit more. But you can't hate on a ski for performing, so I won't. Besides I had a great time on them and would have kept riding them all day if I didn't feel so bad, hogging the only pair at the demo…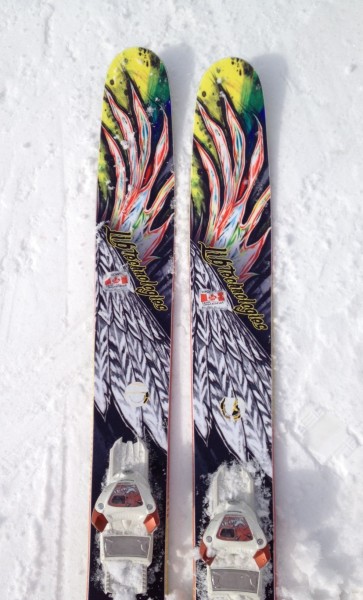 How did it Perform?
Strictly from a performance perspective, the FF5′s did everything they were suppose to do. They were able to carve up the groomers and utilize that mini-magnetraction (or Mini-Mag, Lib's version of magnetraction that was designed specifically for the FF5′s) to really dig into the cord. I always felt in control of the skis and with the shorter length I never had to muscle them around. They transitioned well through the different snow conditions as well, adapting from groomer to chop easily and without needing much correction from me. In what pow I did have to ski, which was stashed here and there and anywhere from 4″-6″ depending, the FF5 seemed to do just fine and definitely left me wishing there was more of it to ski. But then again, when do I not want more pow? They were definitely fun, and gave me the feeling I was only scratching the surface of their potential. It's always nice to be on a pair of skis that can be serious about using their edges, can easily back off and be playful quickly, then transition back to the edges just as easily. Like I said, the Lib Tech Fully Functional Five skis did exactly what they were suppose to do, the only thing I thought might have been lacking was that "charge-ability" that I think I would have gotten from a ski that was a little longer. But that's more of a personal ski size preference I suppose. Because outside of the length, these skis performed, plain and simple.
How was the ski's agility?
When it came to agility, the Lib Tech Fully Functional Five was a master. I'll say part of this is because I was on the 175cm and the 185cm may have been a bit different, but without a doubt these skis were weighted very nicely and the swing weight was easy to maneuver. One added benefit of the FF5′s ski shape, is that with it's rocker/camber and mini-mag/shorter sidecut is you can feel comfortable making quick turns or bombing through tight spaces and not have to worry about whether they'll hook up or not when you need them to. That 'last second turn' to avoid a tree will always be there. It really didn't seem like I had to "get used" to the ski at all, it was really just a strap up and go ski. Sure I had to play with how they initiate and come out of turns a little bit but that was very minimal. And for the record, initiating turns was very easy and didn't seem to take much at all, as was coming out of them. Both the 175cm and 185cm versions have a 16.5m sidecut so not sure the 185cm would have felt any different when it comes to going in and out of the turns. The POW NAS has an 18m sidecut and that seamed to be about perfect for my taste, but it's also a completely different shape ski. What the 16.5m sidecut of the FF5 accomplishes is it puts a wider range of people in the driver seat and makes them feel comfortable in tight situations while still giving them the ability to draw out those groomer turns and put some good ol' fashion arc into them.

How was the stability?
Stability-wise the FF5 was solid. Always under your feet and in control when you needed them to be. Whether that was in freshly fallen snow or snow that had been skied 12 times over, the Fully Functional Five was always able to stay in control and could find an edge when I needed one. Actually, one thing that did really impress me about the FF5 was it's ability to feel so agile and nimble and yet it was able to power through snow that was packed out and choppy.With the Lib Tech reCURVE Technology it handled variable snow conditions no problem, staying above crud and chop with ease and also giving good float in the fresh snow. I really felt like I could open them up in the variable snow and still feel confident that they would stay in control and could carry me through. Now that doesn't mean they were bulldozers, just that they could mach through and even though they would bounce off of the bumps and whatnot, they still felt like they were in control while doing so. I liked the way that the Fully Functional Five was able to go on auto-pilot some if I wanted to get little lazy, yet when I did want to push the ski it was very receptive and was able to apply the power to the right places. The the FF5 took to both high and low speeds easily, I never felt nervous at all about its performance. Which for a mid-flex ski, I thought was somewhat impressive. Like I said, it was by no means a bulldozer ski, I really felt like I could pop off anything  if I wanted. But even with the pop, lighter flex, and general playfulness of the ski, I still always felt like the ski could handle itself and was ready for anything. Which in my book is the definition of stability.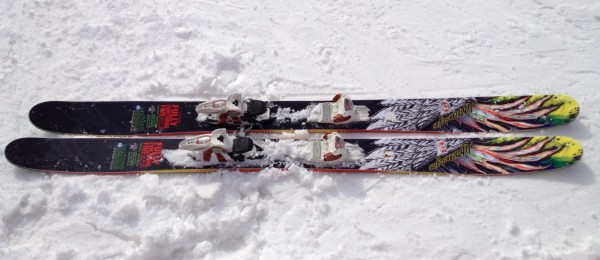 Cons/Dislikes/Problems/Suggestions?
I really couldn't find anything wrong with the 2013 Lib Tech Fully Functional Five skis, other than the fact that the ones I skied just didn't quite have the length I wanted. But when it comes to performance the skis did exactly what they were designed to do, ski everything the mountain had to offer and did so with minimal effort from the skier.
Recommendation:
I would absolutely recommend these skis to anyone looking for an all-mountain, use every day ski. If you've found yourself researching the Armada JJ or the Rossignol S7 in your search for new skis, then throw these things in the mix as well. Actually I'd probably throw them at the top. Well, it would be a close race with the JJ's (I'd go with the Lib Tech's, I love a good underdog story) but I would definitely get these over the S7′s. The Fully Functional Five will perform just as well as anything else out there in the all-mountain mix, guaranteed.
Last Words: Superior performance. Amazing graphics. Love'd em'. 8.5/10.
Check out the Lib Tech FF5′s @ your Local Online Retailer:

Posted on March 19th, 2012 by Kyle