I finally got out on a pair of the new K2 obSETHed yesterday. This is a ski that I've wanted to ride since they came out, but I was waiting for a day where I could actually test them in some legit snow. Yesterday was that day. The conditions were: 10" of new 25F-28F degree snow. The visibility and wind weren't that great but really that didn't matter since the majority of my skiing was in the trees. And just so everyone reading this knows and can use the info to compare to themselves, I'm 5'10" and about 170lbs.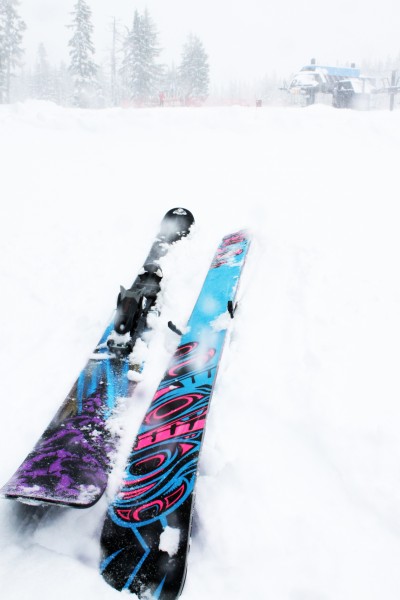 Before I get into how my day on the obSETHed's went I'll let you all in on why I've been yearning to get them under my foot. These days you can't help but notice the fat ski revolution. Pretty much bigger is better anymore and I really don't disagree with that. I think that if you can put a ski under your foot that is gonna float you through the deep and let you carve up corn, then why not? The obSETHed was redesigned this year and is now a 117 underfoot ski (bigger is better) and has K2's Powder rocker in the tips and their All-Terrain rocker in the tails. And being that Seth has boasts that they'll take him anywhere at any speed, you can't help but be interested in a pair of these warlocks.
After picking up the 189 version of the ski from Demo the first thing I noticed was that they were definitely heavier than my everyday ski (Line Blends). Now this was to be expected, my Line's are 178 long and 100 underfoot. When I put them next to the obSETHed's they were dwarfed in comparison. However I do have two things to say about the weight: 1. I also own a pair of K2 Public Enemies and have always thought they were on the heavy side. They are comparable in size to my Line's and definitely heavier. 2. I also did an "in hand" weight comparison with some 189 Blue House Maestro's and though there was no scale involved, I swear the Blue House's were decently lighter. My recommendation is that if you are worried about weight, do the research and figure out the actual weights.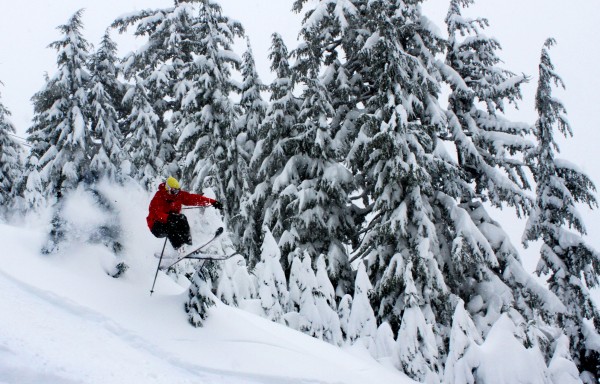 Alright, meat and potatoes time. On the snow I feel comfortable saying they were pretty awesome. The 189's though might have been a bit much for me though, I really never felt like I was able to get them to respond in the trees as quickly as they're capable of. Like I said earlier, I'm about average size, so I think if I would have went with the 179 version that problem would have been solved. In the powder they killed it. I floated with ease and when I wanted to get the tips dirty all I had to do was push down. It's amazing what that extra 17 underfoot can do. Taking them out onto the runs, which were nice and chopped up by then, I really was impressed with how stable they felt. I remember looking down and watching the tips flop around in all their rocker glory and thinking…"I really can't feel that vibration at all". Which in my book a smooth ride is a big plus. At high speeds down variable terrain, I felt very comfortable. The edges were there when I wanted to be on edge and the ski was very smooth. I really do think you could take this ski anywhere anytime and be worry free.

My overall impression of the ski, I'd recommend it for sure. However, I personally wouldn't be buying them until I rode some of the other fat skis out there. I just have this feeling that something from say Line, Armada or even Rossi would be lighter. And to me, weight is a big factor because I want as agile of a ski as possible. So if after a shop around of the other comparable models out there, if the obSETHed's turned out to be the best overall, I'd have no problem making them my everyday ski.

Posted on December 1st, 2010 by Kyle