Todd Bracher doesn't need a board to wake surf. In fact he prefers to ride his wave's "Hungarian style". The water in the Willamette River is not the cleanest and the amount of water that a rider inhales while trying to perform barrel roles "Hungarian style" is about one gallon an hour. Come to think of it, probably not a good choice of surf styles. Todd went home with the green apple two step. Not conducive to house keeping. We wish him the best and hope that the Sears catalog in the crapper will keep him occupied while his legs fall asleep and his stomach starts to eat the rest of his other organs. On a side note Gutt and Reggie tore up the water on a board. Stoked to see them out on the boat. Thanks to Active Water Sports
for the use of a wonderful MB Tomcat and to WakeMakers for making the wake redicously huge.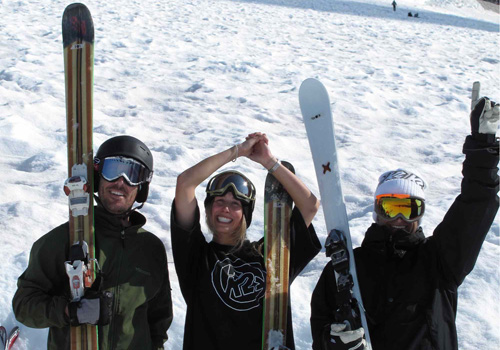 (Words By Todd) We just wrapped up a week of testing K2 skis on Mt Hood. Conditions were perfect for testing with hard snow at 7am and by 10am some of the best corn skiing you can imagine. We tested BackSide skis mounted with Tele/AT setups, Factory Team and Apache Skis. With 18-20 testers from all over the US, a few international testers as well and an age range of 15-70 it's a great diverse group.
After testing 3 or more groups and taking 15-20 runs each morning a guy gets hungry and starts thinking about the gourmet food at the Huckleberry Inn. This is where we debrief and talk about which skis we liked and didn't like andwhat exactly each ski is. After a truly satisfying meal were back at the K2 House where we spend the afternoons meeting and throwing out ideas on various projects. Don't let me kid you, most people spend the afternoon in a Huckleberry Food Coma preparing for the evening activity which can include golf, trail running, mountain/road bike rides or watersports.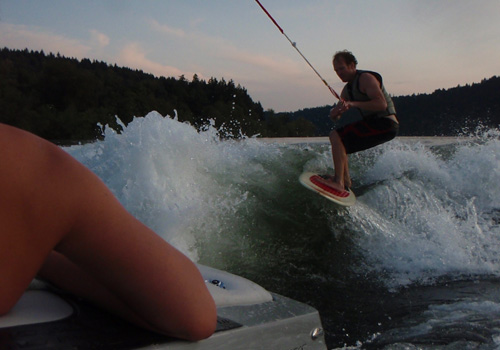 Everyone knows skiing can make a guy dehydrated and apparently the Willamette River knew this and invited Andy, Alex, Gutt, Matt, Reggie and myself for a nice refreshing evening of watersports. After multiple mouthfulls of Willamette River Springwater my body was feeling great, no more dehydration for me. It's funny how you can feel so good one day and wake up a few days later itching with a funny feeling in your stomach. When we were saying goodbye to the friends who had taken us out on the boat one of the girls mentioned how her friend had gotten Giardia from swallowing Willamette River Springwater. Sounds fun, all I know is I haven't heard from any of the others in the boat so I think my cramps and itching are from a new shampoo I'm using.

More from Mt. Hood soon, I hope….

Love always,
Todd

Posted on July 16th, 2009 by Spencer