I've started to notice an increase in e-zines these days, or online magazines. You should have noticed that Newschoolers has one, I also follow a couple of fly fishing e-zines as well (1,2). The concept is awesome, take an idea for a magazine, design it, get the content, make it graphically appealing and interesting, then skip the printing and throw it online. And HEY! We even have fun new iPads and other tablets to take around with us to read these e-zines on. The two go hand in hand in my eyes.
One e-zine that I've started to take notice of is InSight, an online mag who's goal is to bring you ski industry stories that you might not get anywhere else. They've just released their 2nd issue, and you know what? It's worth the time to "click up" and read. Inside the newest issue you can expect articles hitting on a range of topics. From interviews with up and coming photo/video vigilantes to a look into what it takes to be the Founder/President of Surface Skis, or  time and effort that goes into being the terrain park manager/jib builder of a major west coast resort. Was that a run on sentence? Oh well. The only thing about InSight is that it's damn hard to find by searching on the Google. At least I couldn't figure out how to navigate to it outside of following a link on either Newschoolers or from their Facebook fan page or just typing in the URL. I literally googled every combination of words relating to them that I could think of. No dice. Could just be because they're still pretty new. I don't know the reason, but I do recommend it for a read if and when you can get to it. Hopefully this little write up will help bump em' up on the Google list and maybe a few new followers. With SIA coming up at the end of the month, it sounds like InSight will be around and hopefully documenting the hell out of it. Should make for some good upcoming content in future issues.
well done InSight from all of us here @SkiersRealm. We look forward to reading what's to come.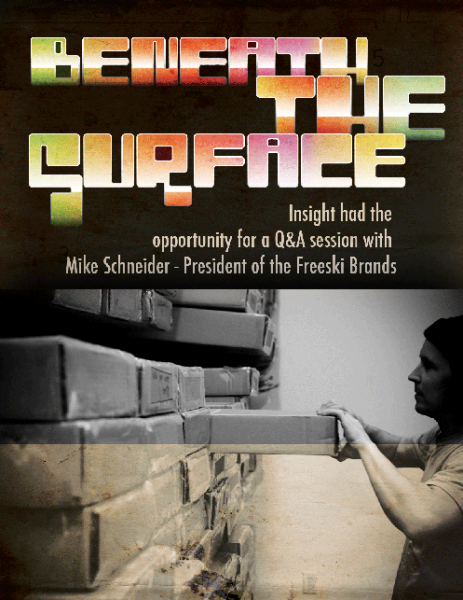 Posted on January 7th, 2011 by Kyle