French Ski company Coreupt might have been a little intoxicated when they decided these skis would be a good idea. To me it looks like they took a pair of K2 Hellbents, made them a little wider, a little longer and cut those tips right off. I guess I should look at it with open eyes and not knock them until I try them. We will have to wait and see what the production models actually look like.

Update: CoreUPT Does Good For Mountains
SkierRealm just received a message from CoreUPT telling us their new planks will be called the Big Balls skis. They are produced on a made to order basis keeping them very limited. CoreUPT is doing good by donating a couple pairs for private auction to raise money for the Mountain Riders Association. The French Mountain Riders coordinate and establish 'Green-Events' and 'sustainable development' charters for mountain resorts to help clean up our slopes.

When a ski shaper goes mad, he can produce strange things, like this fat (really fat : 207cm, 127mm waist, 47m radius) double rockered ski. An easy and smooth ski at the end, here is the Big Balls (easy and smooth is no the same for everyone). We have the opportunity to test it this morning, in a light creamy butter snow (almost 20cm at some places, awesome !!

). The faces at each lift were funny, I have to admit. And I have to tell you that we were smiling non stop when we got home. More info in the week to come.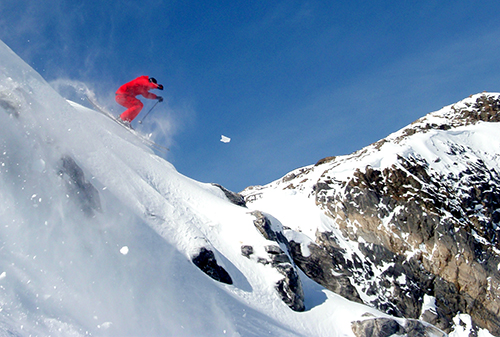 Posted on March 31st, 2009 by Spencer