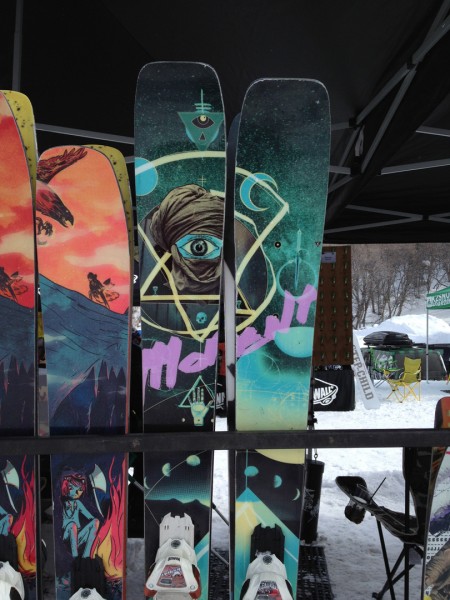 2013 Moment Deathwish Ski:
What is Moment Skis bringing to the table for the 2013 Ski Season? A new all-mountain destroyer with a brand new technology, thats what. The 2013 Moment Deathwish and it's Dirty Mustache Rocker profile were definitely one of the bigger stories in the SkiersRealm trip to SIA this year in Denver. These days with all the new ski manufacturers and technologies popping up on the radar it can be hard to distinguish what's legit and what's filler. After demoing the new Deathwish at the On Snow Demo in Snow Basin I can assure you this new ski/technology is anything but filler. It's the cheese on top of the nachos. (anyone who gets that reference, contact us because you rock.)
Specs:
Lengths offered: 164, 174, 184, 190cm
Flex: 7/10
Profile: Dirty Mustache Rocker (Rocker Tip, Triple Camber (camber/flat/camber), Rocker Tail)
Dimensions: 138/112/129 (all lengths)

Target Skier: The all-mountain skier who doesn't have the resources to build the perfect quiver of skis but wants to ride regardless of the conditions.
Overall how'd it ski?
Overall I was really impressed with the new 2013 Moment Deathwish, which in a way is what I expected. Everything else I've been on from Moment has always impressed me so I wouldn't expect this ski to be any different. However, I was a little skeptical of the Dirty Mustache Rocker and how much it actually would effect how they skied. These days ski manufacturers are really striving to set themselves apart from their competitors and so it's important to remember that with all the new technologies being introduced, many of them are still experimental even though they might get put into production. This makes the demo even more important to somebody who's shopping for a new pair of skis. You don't want to be the person who goes out and buys into the hype of a new ski only to find out that it really doesn't do anything, or worse, skis like shit. But this definitely was not the case with Moment's Dirty Mustache Rocker, which I should clarify consists of 4 different profile zones. You have flat underfoot, then you have rocker zones on each side of this which essentially are under your bindings, next you have more camber on the outsides of those rocker zones which are right in front of your bindings, and finally you have another rocker zone at the tip and tail. So at first glance it's easy to think there's just too much going on or it's just a novelty. But after riding it, I'm sold that it is truly an active part of the performance of the ski. The 2013 Moment Deathwish felt very stable right from the beginning and gave me a feeling of confidence that I could turn the ski loose without having to worry about consequences. It took me approx. 1.5 runs to get used to the ski, which in the grand scheme of things is very minor. Once I had their turn radius and swing weight dialed it was game over and I was able to rip around as I please. And rip they did, on anything from fresh groomers, to the 4-6″ of new that fell, to the chopped up icy crud that was hanging around. A good way to describe the Moment Deathwish? How about bi-polar, serious one minute and super playful the next. But it's all up to how the skier so maybe I'm the bi-polar one. Either way I can honestly and easily say that I was impressed.

How did it Perform?
In the pow…well in what pow was there, which was 4-6″ of new snow, the Moment Deathwhish skied flawlessly. I can't say they were amazing in deep snow because I didn't have any to demo them in. However, if I were purchasing a pair and I knew they performed as well as they did in everything else and I just hadn't had a chance to ski them in deep pow yet, that wouldn't stop me from buying them. Personally I think powder is more forgiving and therefore you can have an inferior ski which can still hold its own as a powder ski. These skis were anything but inferior, they were confident and always in control, but quick on the draw if you ever wanted to pop, slash, or butter an unsuspecting feature. In the spots where the exposure to sun or wind had effected the snow quality, the Moment Deathwish kept its composure and carried you though. It really was a secure feeling ski. On the groomers it was super easy to carve both quick and short turns as well as long and drawn out turns. Both gave the feeling of being locked in or "on rails" as you progressed through the turn. Easy to initiate and smooth to release. I feel like I should add some sort of disclaimer that neither SkiersRealm nor I myself are on the Moment payroll because this review is so heavily weighted towards the positive. But thats just how it was. There were no quirks, no little things to get used to, nothing but get on them and go. They skied very well, period.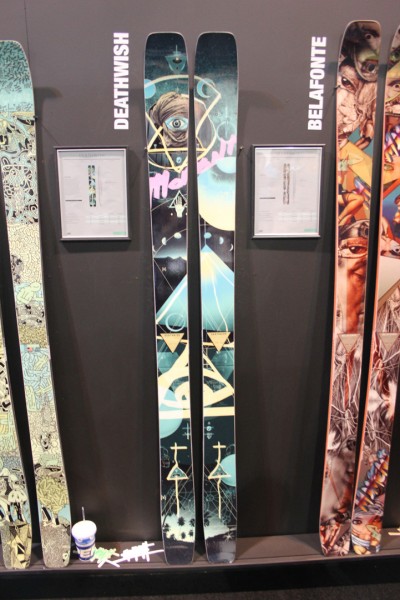 How was the ski's agility?
Overall the agility of the Moment Deathwish was great, I ended up taking the skis through some pretty thick trees and brush at decent speeds and never felt like I was being hindered by the ski at all. It turned and changed directions as fast as I could, so the only hinderance was me. The skis felt very well balanced and once I had the mechanics of the ski figured out after that first ride up the lifts I had no hesitation about taking them into tight spaces with speed. Part of what made them so easy to turn quickly was that they went in and out of turns so easily. I can't remember one turn where they hooked up, got caught, or delayed my ability to turn. That also goes for all around the mountain in general. I never experienced being caught off guard or catching an edge while cruising the mountain. Now that's not to say it isn't possible, only that I think if the skier knows what their doing, then this ski is going to perform very well for them.
How was the stability?

I would classify the Moment Deathwish as a super stable ski. That's something I noticed right from the start, at both high and low speeds the ski never felt squirrelly at all. For me, the stability of a ski is very important because if your ski doesn't give you a sense of confidence at high speeds then you're not going to be able to push yourself or even enjoy the ride. I wouldn't say the Deathwish as a bulldozer, it didn't plow through everything in it's path, but it also wasn't a ping pong ball bouncing off everything it came into contact with. I'd put it in the middle somewhere, it was a good balance between the two. Sturdy enough to let the ski take over if you wanted but yet not stubborn in that you couldn't play around with it. Very little tip and tail chatter, which sometimes isn't the case with rockered skis, the flex was a good stiffness that I would say was just a touch towards the stiff side of the spectrum.

Cons/Dislikes/Problems/Suggestions?

I honestly can't think of anything that I would like to see changed in the 2013 Moment Deathwish. The ski performed great and never left me wanting more or thinking it needed to be tweaked in some way. If anything I'd like to see the ski in a 120-125mm underfoot model to see just how well it performs on the groomers but with a big pow ski's dimensions.

Recommendation:

Without a doubt I would recommend the Moment Deathwish. Especially to somebody who's looking to buy a ski they can use everyday of the year without ever feeling like they could be enjoying the snow more if they had a better ski. After my demo of the Deathwish I would absolutely feel comfortable taking these skis up to the mountain in any kind of snow/weather. Their ability to perform all over the mountain also gives me the feeling that they would be a great ski for some back/slack country touring.

Check out the 2013 Moment Deathwish at some other shops:

Video Review:


Last Words: Great performance. Great graphics. Great ski. 9/10.

Posted on March 5th, 2012 by Kyle