2013 K2 Pettitor Ski:
Being one of the big guys, you can always expect a few new things from K2 Skis each season and this year's no different. So let me give you a super quick recap of what you're going to see from K2 for the 2013 winter season. The growing up of Seth Morrison's and the glorification of Sean Pettit. In other words, goodbye to the crowd pleasing K2 Obsethed. Hello to the more experienced and (slightly) more mature, yet surprisingly versatile 2013 K2 Side Seth. And introducing the brand new 2013 K2 Pettitor ski. Please hold your applause….oh ok, clap you're friggin' hearts out. The new K2 Pettitor is Pettit's first pro-model and designed to take the place of the Obsethed, but don't think it's just an Obsethed with a new paint job, the Pettitor picks up where the Obsethed left off and takes it's rider much, much further.
I'll be honest here, I really do try and keep an open mind when getting on a new pair of skis but I've had this unfair bias against K2 skis for the past few years. My first pair of skis were some K2 Public Enemies, and they were great, never had an issue with them. However, after them I demoed a couple pairs of K2 Obsethed's and really wasn't that impressed. I always thought they were a bit on the heavy side and sluggish to maneuver. Now to be completely clear, I have no idea how much they weighed only that they felt heavy and slow in the turn. But the Obsethed developed a pretty loyal following during its tenure and I really can't think of a time where I heard anyone else side with me on the subject. So maybe its just me and I'm completely clueless, but lets hope not. It's just one of those things, you have a bad experience with a food and what happens? You end up not liking that food anymore. So even though 90-however percent of people love their K2′s, I've always carried around this little bit of negativity against them. It's what led me to buy my first pair of Line Blend's over a better deal on some K2 Obsethed's, and it's what has kept me off the brand since. The reason I'm babbling on about all this is because I want to make it perfectly clear that this is an unbiased review and that I'm definitely not some K2 junky who will just give anything they make a great review.
Specs:
Lengths offered: 169cm, 179cm, 189cm
Flex: via 2013 K2 catalog: "Built stiffer than any other ski in the line…"
Profile: Rockered Tip & Tail, Camber Underfoot
Dimensions: 147/120/141mm
Turn Radius: 22m @ 179cm

Target Skier: The skier who wants one ski to take care of it all. Somebody who skis hard on the entire mountain and needs a ski they can be confident in no matter what the conditions. This is definitely a "one ski quiver". You might not have access to AK like Sean, but if you did you could rock the Pettitor's up there just like him. Until then, feel free to take them anywhere you want.
Overall how'd it ski?
Overall the 2013 K2 Pettitor was a great ski. It took the hesitational grimace right off my face and instantly turned it into a nice little smile. I could tell immediately that I liked the skis heads and tails over the past Obsethed's I had ridden. They had a very smooth feel to their ride. I was pleasantly surprised that the Pettitor's didn't seem to have that "heaviness" to them that I was expecting. The demo bindings were right around boot center I believe and the position seemed to work well.  Thanks to the K2 Powder Rocker in the tip and tails the Pettitor's had no problem floating over anything in their path, and the mixture of sidecut and bounty of camber underfoot made it easy to initiate turns and easy to come out of them. The Pettitor's did seem to love it's edges, but it wasn't to the point where I got that feeling of being stuck on them. I've skied a few pairs of skis where you feel like you're constantly locked into the edges and the ski refuses to do anything but charge. This was not the case with the Pettitor's, they loved to be on edge and you were definitely locked into them when on them. However, I always felt I had the option to release whenever I wanted. It was more like they were suggesting to you, "hey if we're gonna be skiing then we might as well be cutting up the snow". But whenever you saw something that looks like fun to slash or smear they were right there with you. They're like that friend who doesn't do anything half-assed, including party. Their mantra; if you're gonna do something, do it right and give it 110%. I would say that K2 has done a great job of designing a ski that can handle the seriousness of firm/hard packed snow but still be able to relax and play in the soft and light snow.

How did it Perform?
Aside from performance in the deep pow (because there was none) the K2 Pettitor was able to perform in every type of snow I ran it through. The K2 Powder Rocker made it easy to float over everything. Everything which consisted of some 4-6″ new snow that hadn't been skied, the chopped up 4-6″ that had been skied many times over, and then whatever crud and muck (sunbaked snow, ice balls…etc) I could find. The float helped keep the ride smooth and let me focus more on having fun with them rather than worrying about what I was skiing into. Not only was the float great but I also took notice as to how easy it was to lay solid, drawn out turns off the runs. It's a great feeling when the ski under your feet seems to ignore the fact that you're on a choppy surface and produce smooth turns at high speeds. It literally brews confidence in the skier. When I wasn't darting around off piste looking for something variable to run the Pettitor's through, I was railing them on the groomers as fast as I could go. This was where the ample amount of camber under foot and side cut of the ski could really shine through. The Pettitors seemed to feel just at home on the groomers as they did off-piste which is somewhat surprising considering their 120mm waste. It really shows how far ski technology has come. Maybe you've noticed it in rockered skis before, but there is usually a trade off when it comes to being able to perform on and off the corduroy. A ski might blow your mind out in the trees but leave you wishing for a little more when you hit the groomed. I really didn't get that from the Pettitors. I could gather as much speed as possible and still feel confident in them being able to hold an edge during long, drawn out, high speed turns. Then, when the speed died down and the turns got quicker and shorter, the Pettitor's were able to respond and give me what I was looking for.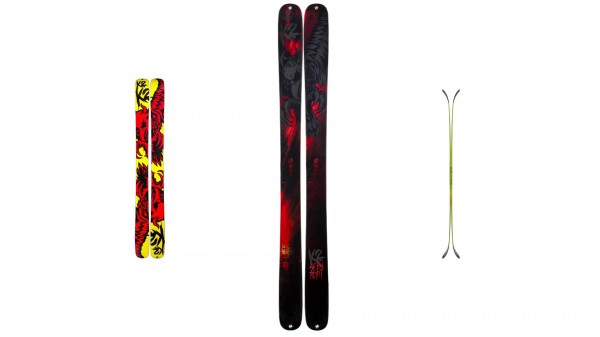 How was the ski's agility?
From an agility standpoint the K2 Pettitor had a lot going for it. K2 Skis has done a great job of delivering an all-mountain ski that is aimed more at the freeride side of the spectrum but doesn't seem to skimp at all when it comes to quick turns and quick decisions on the slopes. Even though Sean and K2 designed the Pettitor's to be able to handle big mountain and deep pow lines, they kept the ski relatively playful by keeping the contact points close and reducing the swing weight. The result is a stiff ski that can handle whatever trouble you can get into off the runs yet still give you the results you want when its time to ride some groomers. The stiffness of the Pettitor's, which by the way K2 claims is the stiffest ski in the line (I don't know if that means their entire 2013 ski line or just the freeride skis), really shines through in the bumpier snow. The skis definitely give the skier a solid feeling of control at high speeds as they're mocking through the crud and the bumps. As I was saying above, these skis have some power in them that let you lay high speed turns in variable snow. They are the type of ski that builds confidence as you build speed. So to be able to take a ski like that straight into the tight trees without there being any sort of struggle in getting them to make quick turns is absolutely a plus. Which is where the closer contact points and faster swing weight really shine through. While in the trees I felt like I could take the Pettitor's as fast as I wanted, if anything it was only my own hesitations that were holding them back from attacking the trees any faster. But since the confidence was there in the ski, I can only assume it to be a matter of time before most all skiers riding the Pettitor's see their abilities progress as they get more and more comfortable with the skis.

How was the stability?
The stiffness, sidecut, camber and width all make the 2013 K2 Pettitor into a super stable ski. This is one of those skis you can loosen up on and let go into a bit of autopilot  without having to worry about them taking off on a stray edge, which only makes them that much easier to ski. It's nice to be able to relax a bit on those traverses and know you can save a little energy before and after that secret stash when you know you're going to need it. The sidecut and width of the ski (120mm underfoot) do a great job of keeping the skis under your control when you're in the untracked. More than that, they give you the feeling that you can make the ski do what you want it to. Meaning its easier make uniform tracks in the pow while still feeling free to mix in some playful turns and slashes without losing that momentum. This will be a big advantage when in the fresh snow that's got a little higher water content to it. Any ski that makes it easier to turn some good ol' fashioned NW heavy pow into a playground is only going to be that much better when you get it into something lighter and dryer. Then there's the stiffness, which as I said K2 has amped up for the Pettitor. The stiffness of the Pettitor combined with it's camber, lets you load and release power in the ski as you're coming in and out of turns. Both off piste and on the groomed runs, the Pettitor's ability transfer the energy from the skier to the snow helps it perform better through its turns which means more stability more often. In fact the only downside I noticed when it came to stability in the K2 Pettitor was the little bit of tip and tail chatter from K2′s early rise Powder Rocker in the tip and tail. For me, it wasn't enough to knock them down a grade but it was enough to take notice of. Which I'm a fairly tolerant skier so who knows another skier might say it was significant. I however wouldn't change my mind over it.

Cons/Dislikes/Problems/Suggestions?

There isn't much to say about the 2013 K2 Pettitors when it comes to issues or suggestions for improvement. The skis definitely hit and exceeded my expectations, they even might have removed that old negative stigma I've been carrying around about K2 for the past 3 or so years. The only thing I can think of that might be a valid suggestion is cleaning up the tip and tail chatter a little bit. Other than that, my time on the skis failed to reveal anything any other areas where the Pettitor's were lacking. I'd love to extend the testing of the Pettitor's into some touring and backcountry riding sometime, I'm confident they'd perform just fine on anything downhill I could get them into but it's the getting their and getting up where I'd love to see how they do.

Recommendation:

If you're the type of skier that loves to spend time in the trees, steeps, pow then you're going to love the 2013 K2 Pettitor's. I'll even go as far as to say that if you're the type of skier who splits time between on and off-piste, then you're going to love these skis. But I'm going to predict that you'll soon sway from splitting time to spending more time off-piste and letting the Pettitor's show you how snow was meant to be skied. In my mind these are definitely a pair of skis that you could ride day in and day out regardless of the conditions. So if you're looking for that one pair of skis to fill your quiver with and not have to worry about if your hardware matches the weather/snow conditions then you can't go wrong with the Pettitor's. I would still recommend demoing them since it's a completely new ski from K2, but I really can't imagine anyone is going to be disappointed with them if you can't.

Check out the K2 Pettitor's specs at some other shops:

Video Review:

2013 K2 Pettitor Skis: SIA 2012

Last Words: Super fun and confident skis. These things are willing to go wherever you can take them. They will most likely ending up pushing you more than you will push them. 8.75/10.

Posted on April 17th, 2012 by Kyle