Here is the Rossignol Ski booth from SIA. The 2012 Rossignol lineup is looking good. Much better than last year graphically I say. I'll stop writing and let y'all be the judge. 2012 Rossignol skis and bindings are here. Check below the gallery for ski sizes and dimensions.

2011 / 2012 Rossignol Skis:
Editor's Note: The 2011 Rossignol S6 is now the Rossignol Sickle. The Rossignol FKS 180 and 140 bindings both come in orange this season.
| | | |
| --- | --- | --- |
| Model: | Available Sizes: | Dimensions: |
| Rossignol Super 7 | 188, 195 | 146/117/127 |
| Rossignol S7 | 168, 178, 188 | 145/115/123 |
| Rossignol S3 | 159, 168, 178, 186 | 128/98/118 |
| Rossignol Sickle | 174, 186 | 140/110/133 |
| Rossignol Scimitar | 171, 178, 185 | 128/98/121 |
| Rossignol Scratch | 160, 167, 174, 181 | 116/84/109 |
| Rossignol Storm | 160, 170, 180 | 122/92/115 |
| Rossignol Sprayer | 138, 148, 158, 168, 178 | 110/80/103 |
| Rossignol S7 Women's | 168, 178 | 140/110/118 |
| Rossignol S3 Women's | 159, 168 | 124/96/114 |
| Rossignol S2 Women's | 140, 150, 160, 170 | 122/92/115 |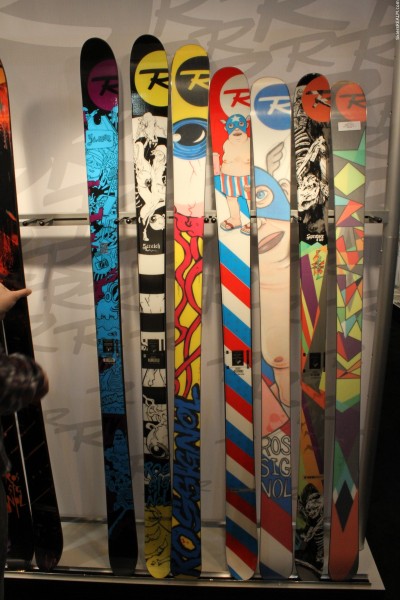 Posted on January 30th, 2011 by Kyle