It's that time again kids….Votes are now being accepted for your favorite 10 male skiers and 5 female skiers. Feverish water cooler conversations have already begun about Seth Morrison and if he'll take his 5th consecutive award. Seth and Shane McConkey are the only two men to ever win the POWDER Reader Poll. In addition Reader Poll, the Video Awards will recognize 15 unique categories including "Breakthrough Performance" and "Full Throttle."
So follow the links on over to the Powder website and get your votes in now!
The PVA's started back in "00 and are recognized by the industry, athletes and skiing community as the premiere ski awards. Continuing to be the most sought-after party during Winter X Games in Aspen, those lucky enough to get in the door experience one of the most intimate parties of the year. (If you have and extra ticket, please contact Kyle @ skiersrealm)
Additionally, for the first time ever, Denver, Colorado, home to the SIA Snow Show, will host an exclusive satellite viewing party at a secret location.
The 2011 POWDER Video Awards and Reader Poll Presented by Samsung and Verizon Wireless will take place January 28th, 2011, at the historic Wheeler Opera House, in Aspen, Colorado.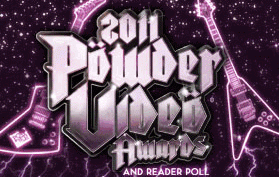 Posted on November 12th, 2010 by Kyle