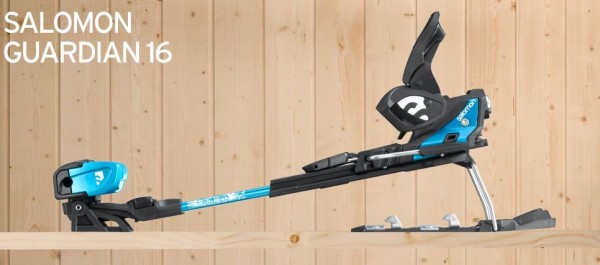 Well it's about damn time is the first thing I'm going to say here. Everyone knew the time would come when Salomon would finally rival Marker and their touring/backcountry binding the Marker Duke. I for one was extremely surprised not to see something this past year at the 2011 SIA Snow Show, especially with how popular leaving the chairlifts and heading off to earn your turns is getting. But alas, the wait is over…well sort of. The wait for the announcement is over, you'll have to wait till next year to actually ride them since they won't be available for purchase till Fall/Winter 2012. Salomon and ATOMIC have unveiled their new touring bindings dubbed: the Salomon Guardian 16 and the ATOMIC Tracker 16. This opens up all kinds of fun new posts about bindings. Personally I'm stoked to see a head to head battle between the Marker Duke, Salomon Guardian 16 (the Salomon's and the ATOMIC Tracker 16′s are essentially the same exact binding simply with different paint jobs and brand names), and let's even throw the new MFD Alltime binding's in the mix! Because if the MFD's can outperform, or even rival the Duke and Guardian/Tracker I'd probably still go that route because you'll still be saving considerable cash down the road. But that's all for a later time. For now, take a look at the new Salomon Guardian 16 and ATOMIC Tracker 16!


For a look at the ATOMIC Tracker 16 check out this thread with some awesome shots of it from epicski.
Press Release: With more and more skiers looking for escape in the mountains, seeking untracked snow and an intense way to experience nature, Salmon and Atomic are excited to introduce a new backcountry binding in the fall/winter of 2012, poised to become the benchmark for all snow adventureres.
What happens when the world's two leading winter sports brands bring together their most creative experts and athletes to develop a backcountry binding? The result is the next generation of freeride performance – the new SALOMON Guardian 16 and ATOMIC Tracker 16 feature unique advantages for every outing into the backcountry.
UNMATCHED SKIING PERFORMANCE
This new premium binding, to be sold as the SALOMON Guardian 16 and the ATOMIC Tracker 16, will change the way skiers approach and enjoy the backcountry. It is designed to provide the highest level of confidence, efficiency, and feel in downhill performance for a heightened skiing experience. The binding's Low Profile Chassis features a lower stand height for greater stability and enhanced terrain feedback, and the Oversized Platform enables maximum power transmission and responsiveness for quick and more precise turns.
HIKE & RIDE TECHNOLOGY FOR PRACTICAL AND INTUITIVE HANDLING
By offering the most convenient and time-saving transition from hiking to riding, the binding helps enable a better experience in the mountains. Beyond its greater transition efficiency, this design also helps reduce the hazards and inconvenience involved in taking off your skis on difficult terrain. Featuring the Hike & Ride Switch, which is easily engaged with your ski pole, it is no longer necessary to remove your skis when switching between hiking and riding modes. After climbing, simply use your ski pole to flip the climbing bar to skiing position, step down with your heel until the binding locks securely into place, and you are ready for the turns you've just earned.

Above all, the new SALOMON Guardian 16 and ATOMIC Tracker 16 bindings provide the power, precision and on-snow feel of a high-performance freeride binding, with the benefits of a very convenient hiking system.

The SALOMON Guardian 16 and ATOMIC Tracker 16 will be available in the Fall of 2012 and will set the standard for the ultimate backcountry skiing experience. Above all, the new binding maximizes skiing performance, is extremely practical and adds new meaning to enjoying the backcountry skiing experience. The SALOMON Guardian 16 and ATOMIC Tracker 16 will be offered for the same recommended retail price and will be identical both technically and functionally.

Posted on October 17th, 2011 by Kyle