How long have you and I been waiting for Oakley to introduce an over sized goggle? Well, the wait is over with the introduction of the Oakley Canopy Goggle. I was blown away with the technology and features loaded into the Canopy Goggle. Oh and Tanner Hall has a rasta inspired pro model so… Jah.
For starters I am pretty sure fog is going to be a distant memory. Dual vented lenses with F3 Anti-fog technology will create a clear view of changing terrain even on those physically demanding traverses into the side country. A triple-layer of polar fleece foam keeps your face dry by wicking away moisture and allowing it to be vented.
Oakley has worked hard to create a comfortable oversized frame that just fits. O-Flow Arch frame technology reduces nasal pressure for improved comfort and increased airflow keeping faces dry. Whether you are a helmet rider or not the Canopy gets versatile. The optimized strap clip attachments fit perfectly on under or without a helmet.

Oakley, for me, has always been lacking when it comes to peripheral vision. The Canopy features oversized lens geometry for a wide-open field of view. This enhanced wide view is exactly why I moved from the Oakley Crowbar to the Electric EG2 goggle a couple years ago. Looks like I will have my "O" face back this season.
My first impression of the new Oakley Canopy goggles in the Tanner Hall colorway was awesome. I wanted something like this when Oakley introduced the Airbrake last season. To be perfectly honest I don't change lenses out all that often taking the Airbrake out of contention for my perfect goggle. The price for the Canopy is between $130 and $170 which will place well on the shelf. It fit great, looks amazing and should blow every other model in this category out of the water.
Editors Note: Riders with prescription eye wear are going to be the most excited about the Canopy as they are in the OTG category. No longer will old four eyes have to be subjected to the lame, and usually low end goggles in the line.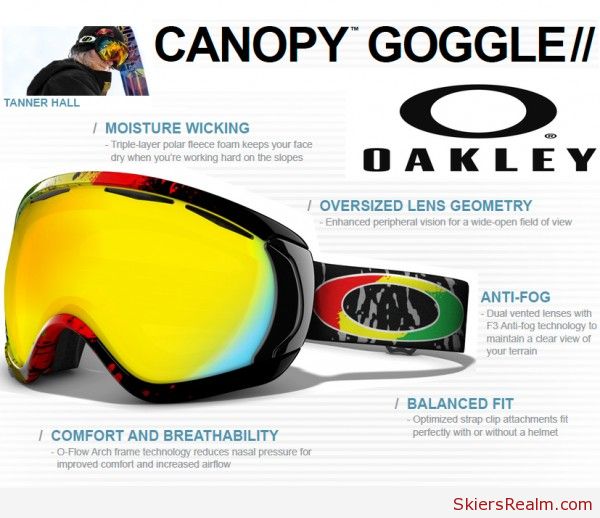 Posted on January 30th, 2012 by Spencer